Counselor Biographies
South Round Rock
2201 Double Creek Drive Unit 1003
Round Rock, TX 78664
NEW CLIENTS:
*****WE REQUIRE ALL CLIENTS TO HAVE AN ACTIVE CREDIT CARD ON FILE WHEN WE CALL TO SET UP YOUR APPOINTMENT.  IN ORDER TO VALIDATE AND SECURE THE CARD WE CHARGE A $5 ADMINISTRATION FEE. **********
STEP 1 PICK YOUR THERAPIST:    
VIEW OUR COUNSELORS BELOW AND READ THE BIOGRAPHIES BY CLICKING "READ MORE".
MAKE SURE THE THERAPIST ACCEPTS YOUR INSURANCE AND IS ACCEPTING CLIENTS
STEP 2 REGISTER AS A NEW CLIENT:
CLICK ON THE REGISTRATION BUTTON BELOW THE PICTURE, THEN "BOOK AN APPOINTMENT" .  ON THE NEXT SCREEN CLICK AT THE LOWER RIGHT ON "CONTINUE WITHOUT SCHEDULING AN APPOINTMENT".  WE DO NOT ALLOW NEW CLIENTS TO SCHEDULE THEIR FIRST APPOINTMENT UNTIL ALL PAPERWORK IS COMPLETED AND BENEFITS ARE CHECKED.
AFTER ENTERING ALL YOUR INFORMATION GO TO THE DOCUMENTS SECTION AND FILL OUT ALL RELEVANT PAPERWORK. OUR ADMIN TEAM WILL GET AN ALERT THAT YOU REGISTERED AND WILL MESSAGE YOU THROUGH THE PORTAL TO SEE WHAT TYPE OF COUNSELING YOU NEED AND ADD ANY ADDITIONAL PAPERWORK NEEDED.
STEP 3 : WAIT 24  BUSINESS HOURS FOR OUR INTAKE SPECIALISTS TO VERIFY INSURANCE BENEFITS  AND  TO CONTACT YOU TO SET UP YOUR FIRST APPOINTMENT. WHEN WE CALL WE WILL ANSWER ANY ADDITIONAL QUESTIONS YOU MIGHT HAVE. YOU MAY ALSO RESPOND TO OUR MESSAGES THROUGH YOUR PORTAL TO ASK ANY QUESTIONS.
Scroll down to see all therapists profiles in this location. Therapists in the Cedar Park and Round Rock locations offer both video and in person sessions.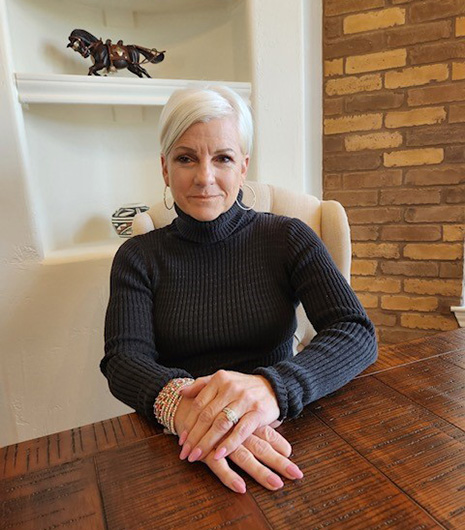 Read More about Mary Ellen

One of my favorite authors, Brene' Brown, said, "To be authentic, we must cultivate the courage to be imperfect and vulnerable. We have to believe that we are fundamentally worthy of love and acceptance, just as we are." As a therapist, I believe that we are all imperfect and want to live life as our authentic selves. However, we mask up every day to make everyone around us happy, no matter the cost to ourselves. We bury past and present trauma, paste a smile upon our face, pull up our bootstraps and drive on. I can honestly say that I have been there and done that!
I have been blessed in my life to travel the world as a military spouse and experienced diversity and the beauty of different cultures.  I have been a practicing Marriage and Family Therapist for over 13 years and have had the opportunity to work with a diverse population of clients. During my career I have been a Court Appointed Special Advocate (CASA), a drug court therapist, inpatient therapist at rehabilitation facility for addiction, at risk youth therapist, and a therapist in two different juvenile jails. I have loved every job because I have learned so much from my clients and have been honored to hold space for them.
My areas of experience focus on working with evidence-based modalities to address complex trauma, anxiety, depression, family conflict, anger management, addiction, life stage changes, and life in general. I work with individuals, couples, families, children (6 years +), LGBTQ, and adolescents. I would be honored to provide you with a safe space to find the authentic you.
Kyle Dickerson, LMFT
Kyle's Patient Portal / New Client Registration Read more about Kyle
Location: In person South Round Rock and Video Therapy for residents in Texas
Insurances Accepted: Aetna, (NO AETNA EAP), Cigna/Evernorth (NO CIGNA EAP), Blue Cross Blue Shield, Humana, Multiplan/PHCS, Sendero,  Tricare, United Health Care (UMR, Optum, Oscar, Allsavers) , Triwest-VA, Self pay $150 

Accepting New Clients:  No    (no children)

(Video and in office)

Expertise:  Adults and Couples
Assessments
Anxiety and Panic attacks
PTSD and Trauma
Depression
Behavioral Issues
Schizophrenia and Psychosis
Bipolar
Eating Disorders
Addiction (e.g. porn, internet, eating ,etc)
Read More about Kyle
Kyle is excited to join Gibson Counseling and is looking forward to bringing his 10 years of mental health experience to the agency. Kyle has worked in many areas of mental health from group homes for at risk youth to clinical supervisor for a large community based mental health program. In each environment Kyle believes that one fundamental principal  is key to building trusting relationships and moving forward: be yourself. Life is complicated enough and counseling shouldn't add the anxiety.
As a Licensed Marriage and Family Therapist Kyle specializes in helping individuals, families and couples to identify and articulate their personal and relationship goals and to help develop a plan for achievement. Kyle's areas of experience include stage of life issues, family and relational difficulties, trauma exposure, as well as general anxiety and depression. He also has experience in working with children/youth (ages 7 and up) and their families who are struggling with behavioral and mental health issues.
Kyle received his Master's of Science degree from California Baptists University in 2012. He was licensed in California in 2012 and in Texas in 2017. He has also received post graduate training in psychodynamic psychotherapy from the Los Angeles Institute and Society for Psychoanalysis and continues his studies in psychodynamic and Jungian psychotherapy. In his spare time Kyle enjoys reading, and trying to understand, philosophy.